In today's article, you will discover the most effective methods for disputing errors on your credit report. With a plethora of information floating around, it's crucial to ensure that your credit report accurately reflects your financial history. By understanding the best reasons for disputing these errors, you can take control of your credit and maintain a solid financial standing. So let's get started and empower you with the knowledge you need to tackle any credit report discrepancies!
1. Understand your rights
When it comes to disputing credit report errors, it's crucial to understand your rights as a consumer. The Fair Credit Reporting Act (FCRA) is a federal law that regulates the accuracy, fairness, and privacy of information in your credit report. Take the time to familiarize yourself with the rights granted by the FCRA, as this will empower you to dispute any inaccuracies effectively. Knowing the time frames and limitations for disputing errors is also important, as it ensures that you take action within the necessary windows.
2. Obtain copies of your credit reports
To begin the process of disputing credit report errors, you first need to obtain copies of your credit reports from the three major credit bureaus – Experian, Equifax, and TransUnion. Under federal law, you are entitled to a free copy of your credit report from each of these bureaus once every 12 months. Reviewing and comparing the reports is essential, as it allows you to identify any inconsistencies or errors. While a small degree of variation between reports is normal, any significant discrepancies should be noted down for dispute.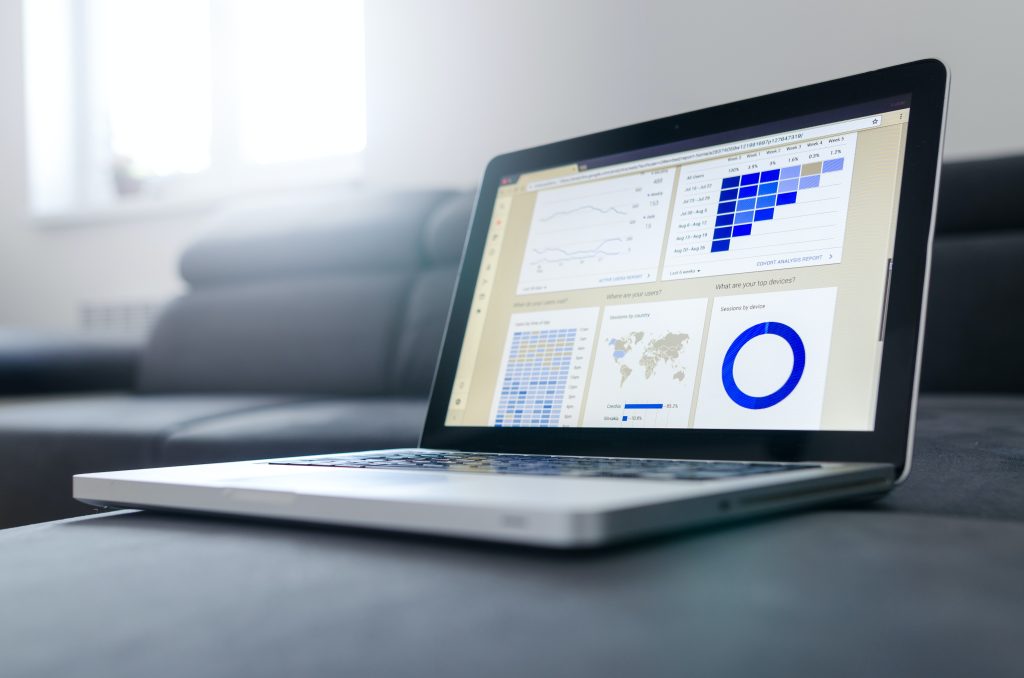 3. Gather supporting documentation
When disputing credit report errors, having supporting documentation is crucial. Collect any relevant evidence that proves the error and supports your dispute. This may include copies of receipts, statements, or any other documents that demonstrate the accuracy of your claim. Make sure you have enough evidence to substantiate your case and strengthen your dispute. The more concrete evidence you have, the better your chances of successfully resolving the error.
4. Initiate the dispute process
Once you have identified the errors and gathered your supporting documentation, it's time to initiate the dispute process. Submit your dispute in writing to the credit bureau that is reporting the incorrect information. While some credit bureaus may allow online submission, it is advisable to use certified mail with a return receipt requested. This provides you with proof of delivery and ensures that your dispute doesn't get lost in the shuffle. Remember to keep a copy of the dispute letter for your records.
5. Craft an effective dispute letter
When writing your dispute letter, it's important to adopt a concise and professional tone. Clearly state the error you are disputing and explain why it is inaccurate. If possible, include any supporting documentation or evidence that you have gathered. Be sure to maintain a friendly and respectful tone throughout the letter. A well-written dispute letter increases the likelihood of a positive outcome and demonstrates your seriousness in resolving the error.
6. Address the credit bureau directly
While submitting your dispute to the credit bureau is essential, it may be beneficial to directly contact the bureau where the error appears. Provide them with specific details of the error and explain why it should be corrected or removed from your credit report. By communicating directly with the credit bureau, you can ensure that your concerns are heard and increase the chances of a prompt resolution. Remember to remain polite and courteous when dealing with the representatives.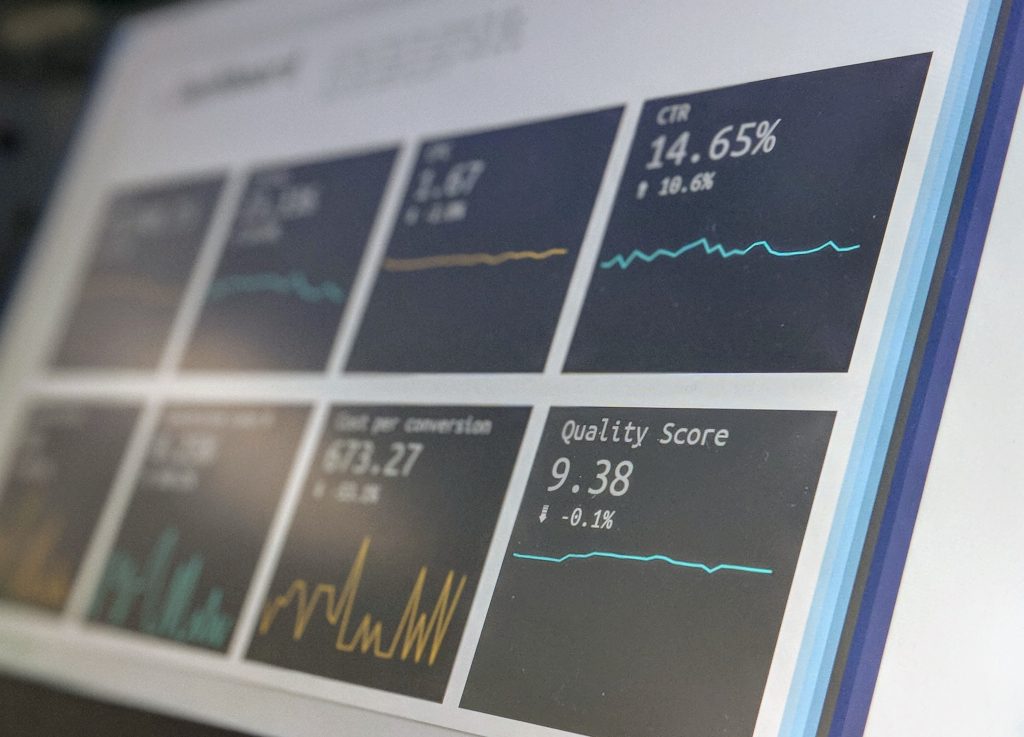 7. Communicate with the furnisher of the information
In addition to contacting the credit bureau, it's important to notify the company or institution that provided the inaccurate information. This may be a lender, creditor, or any other entity that has furnished data to the credit bureau. Explain the error to them and provide any supporting evidence you have. Request that they investigate the matter and correct the error with the credit bureau. By addressing the furnisher directly, you involve them in the dispute process and demonstrate your commitment to resolving the issue.
8. Follow up regularly
After initiating the dispute process, it's essential to keep track of the timeline for response. Most credit bureaus are required to investigate your dispute within 30 days of receiving it. If you haven't received a response within this time frame, consider following up with the credit bureau to inquire about the status of your dispute. Keep a record of all communication related to the dispute, including dates, names of representatives spoken to, and any information provided. This documentation will be invaluable in case of any further issues or escalations.
9. Utilize online dispute tools
Many credit bureaus provide online portals that allow you to dispute errors electronically. Take advantage of these tools to streamline the dispute process. Navigate to the credit bureau's website and provide the necessary information and evidence through the online system. This ensures that your dispute is submitted accurately and efficiently. Additionally, these online portals often allow you to monitor the progress and resolution of your dispute, allowing for clear visibility into the status of your case.
10. Seek professional assistance if needed
While disputing credit report errors can be done independently, there may be situations where professional assistance is beneficial. If you find the process overwhelming or if your case is particularly complex, consider consulting with a reputable credit repair agency or a consumer attorney. These professionals have the knowledge and expertise to guide you through the dispute process effectively. However, exercise caution when seeking assistance and thoroughly research the credibility and reputation of any service or individual you choose to work with. Unfortunately, there are scams out there that prey on individuals seeking credit repair assistance.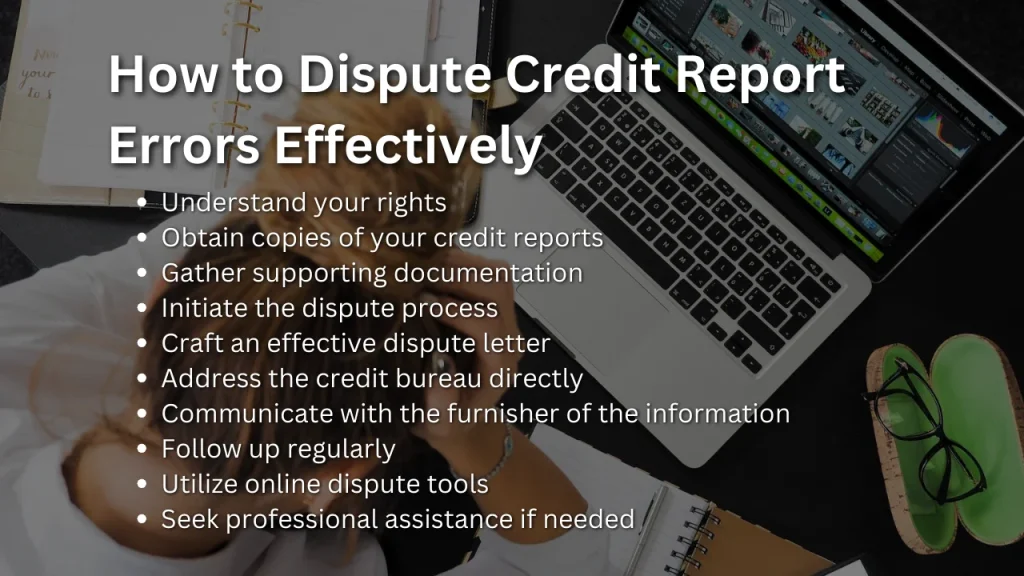 Disputing credit report errors can be a daunting task, but with the right knowledge and approach, it is certainly possible to rectify inaccuracies and restore the integrity of your credit report. By understanding your rights, obtaining copies of your credit reports, gathering supporting documentation, and following the appropriate steps to dispute errors, you are taking proactive measures to protect your financial health. Remember to remain patient and persistent throughout the process, as resolving credit report errors can sometimes require time and perseverance.