In 2014, a single man took on a banking giant in a battle that would draw the nation's attention to the overlooked details in employment practices. Terrell Manuel, a hopeful job applicant, became a beacon of justice when he sued Wells Fargo, one of the largest banks in the United States. 
His claim? The bank had willfully neglected to obtain his authorization before obtaining a consumer report on him for employment purposes. It should have provided him with a copy of his background check report before denying him a job.
This was an oversight and a violation of the Fair Credit Reporting Act (FCRA). This federal law, designed to promote accuracy, fairness, and privacy of information in the files of consumer reporting agencies, had been flouted. And Manuel was not alone. He was part of a class-action lawsuit that saw Wells Fargo agreeing to settle for a staggering $12 million.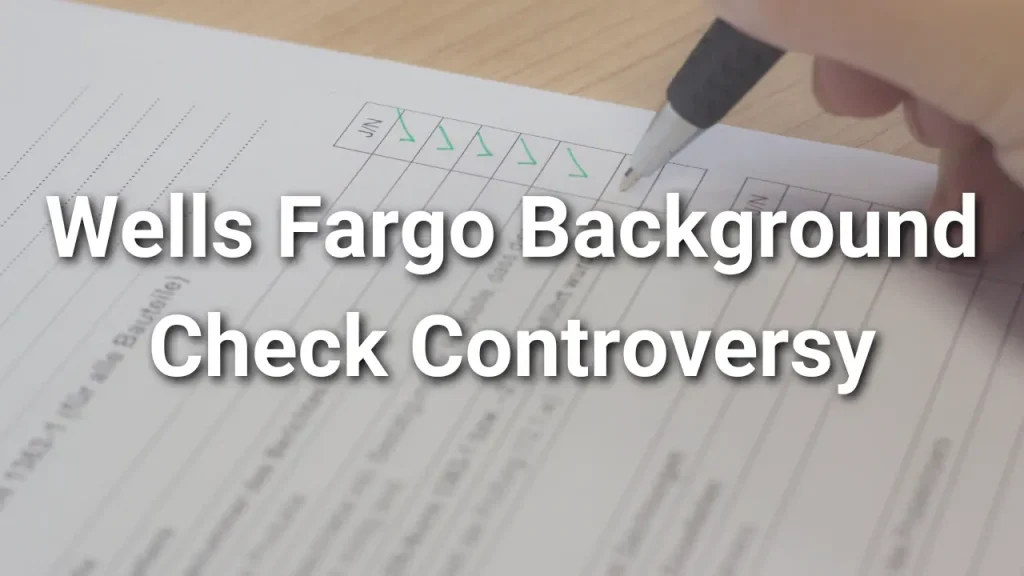 Manuel's experience is a stark reminder of many job seekers' struggles when dealing with large corporations. In his case, the background check—something that should have been a routine part of the hiring process—cost Manuel time, money, and effort trying to get the issue sorted out.
While not an admission of guilt, Wells Fargo's decision to settle does raise questions about the company's practices. At the heart of this controversy is an individual's right to be fully informed and give informed consent. Without the chance to view the information that led to his rejection, Manuel was denied the opportunity to contest any inaccuracies that may have influenced the bank's decision.
This is not just a story of one man. This is a story of many. Manuel belonged to a class-action lawsuit, which means he was one of many people who had experienced similar treatment. How many dreams were shattered? How many careers stalled before they could even start? The $12 million settlement speaks volumes about the scope of the issue.
Yet, it's not just about the financial aspect. The emotional toll on rejected individuals without fully understanding why can be significant. It's a story of hope turning into disappointment, confusion, and frustration. 
These people, like Manuel, were trying to secure employment to build a future for themselves and their families.
The Wells Fargo case is a stark reminder to corporations about the importance of transparency and adherence to federal laws in their hiring processes. It also highlights the power of individuals to seek justice and demand fair treatment.
In the face of corporate giants, it's easy for individual voices to be drowned out. However, this incident reminds us that even in the world of big business, the rights of the individual matter. 
It underscores the importance of vigilance, knowing one's rights, and standing up when violated.
Reflecting on this episode, we should remember that every job applicant is more than just a name on paper. They are individuals with hopes, dreams, and rights that deserve respect. And each one can challenge the system when it fails them.
The Wells Fargo case is a narrative that should echo in the halls of every corporate entity. It is a cautionary tale that underscores the need for stringent adherence to laws and ethical norms. 
Background checks are critical to the hiring process but must be conducted to respect an individual's rights. Anything less is not just unacceptable—it's illegal.
This tale is not just about Terrell Manuel or Wells Fargo. It is a story about every individual who has ever applied for a job, hoping for an opportunity to better their life. It is about every corporation that holds the power to grant or deny these opportunities. 
It is about the balance of power and the importance of fairness and transparency in our society.
Manuel's story is a powerful testament to the individual's resilience and the impact of collective action. It is a stark reminder to all corporations that they are responsible for upholding the law and treating every applicant with the respect and fairness they deserve.
Wells Fargo's $12 million settlement is not just a figure—it's a statement, a message to all corporations about the importance of upholding individual rights and maintaining transparency in their processes. 
Perhaps more importantly, it is a beacon of hope for individuals, a reminder that their voices matter and that justice can be sought and found, even in the face of seemingly insurmountable odds.
Ultimately, the story of Wells Fargo's background check controversy is not just about a lawsuit or a settlement. It is a human story filled with emotions, struggles, and triumphs. 
It is a tale that should remind us all about the importance of fairness, transparency, and the power of the individual to seek and find justice.
References: