In this article, you will discover effective strategies on how to dispute credit collections with ease. It can be stressful when faced with inaccurate or unfair credit collections on your report, but fret not! By following these simple steps, you can take control of the situation and ensure that your credit score remains intact.
Whether you are dealing with mistaken identity or disputing the legitimacy of the debt, the techniques outlined in this article will provide you with the guidance and confidence necessary to successfully challenge credit collections. So, let's dive in and learn how to navigate this process smoothly!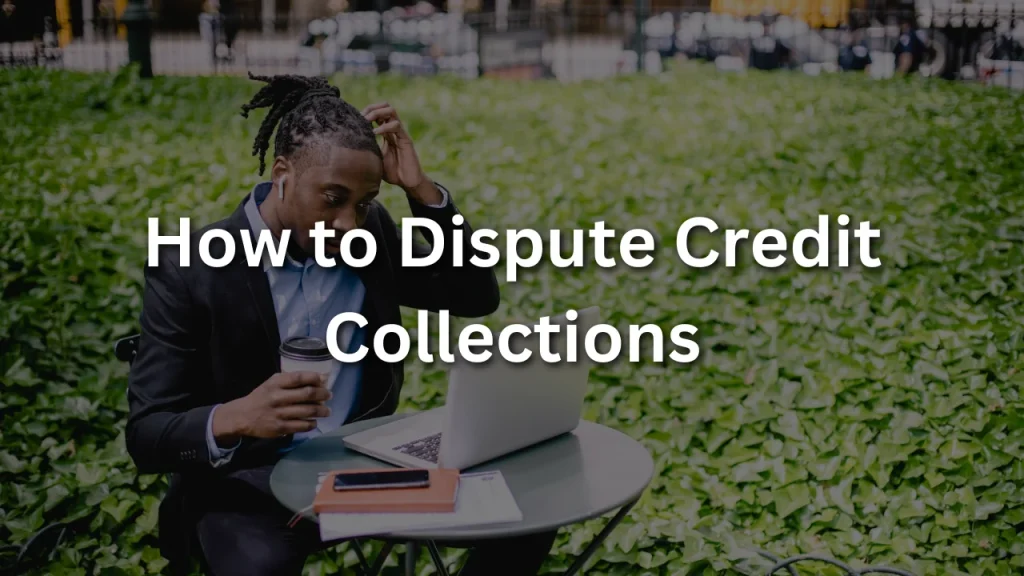 Preparing to Dispute Credit Collections
Gathering Necessary Information
Before starting the process of disputing credit collections, it's essential to gather all the necessary information. This includes documentation related to the collection account such as account numbers, dates of collection, and any correspondence from the collection agency. By having all the pertinent information at hand, you'll be better equipped to navigate through the dispute process and address any concerns that may arise.
Reviewing Your Credit Report
The next step in preparing to dispute credit collections is reviewing your credit report. Obtain a copy of your credit report from each of the major credit bureaus – Equifax, Experian, and TransUnion. Carefully examine the report to identify any inaccuracies or inconsistencies related to the collection account. Make notes of any errors you find, as these will form the basis of your dispute later on.
Understanding your Rights
To effectively dispute credit collections, it's crucial to understand your rights as a consumer. The Fair Debt Collection Practices Act (FDCPA) provides consumers with certain protections when dealing with collection agencies. Familiarize yourself with your rights under this law, as well as any relevant state laws that may offer additional protections. By knowing your rights, you can confidently navigate the dispute process and assert your position when necessary.
Initial Steps for Disputing Credit Collections
Contacting the Collection Agency
Once you have gathered all the necessary information and reviewed your credit report, the first step in disputing credit collections is to contact the collection agency. Reach out to them via phone or mail, providing them with your account details and expressing your intention to dispute the collection. Be polite and professional during this initial contact to establish a cooperative tone.
Requesting Validation of the Debt
After getting in touch with the collection agency, it is important to request validation of the debt. Under the FDCPA, collection agencies are required to provide proof that the debt is legitimate and that they have the right to collect it. Ask the collection agency to provide documentation, such as a copy of the original contract or a detailed account statement, that validates the debt. Review the validation provided carefully to ensure it meets the requirements under the law.
Sending a Dispute Letter
In addition to requesting validation, it is recommended to send a written dispute letter to the collection agency. clearly explain in writing why you are disputing the collection account and provide any supporting evidence or documentation that refutes the validity of the debt. Keep a copy of the letter for your records and send it via certified mail with return receipt requested to ensure proof of delivery. This written dispute will serve as an official record of your efforts to resolve the issue.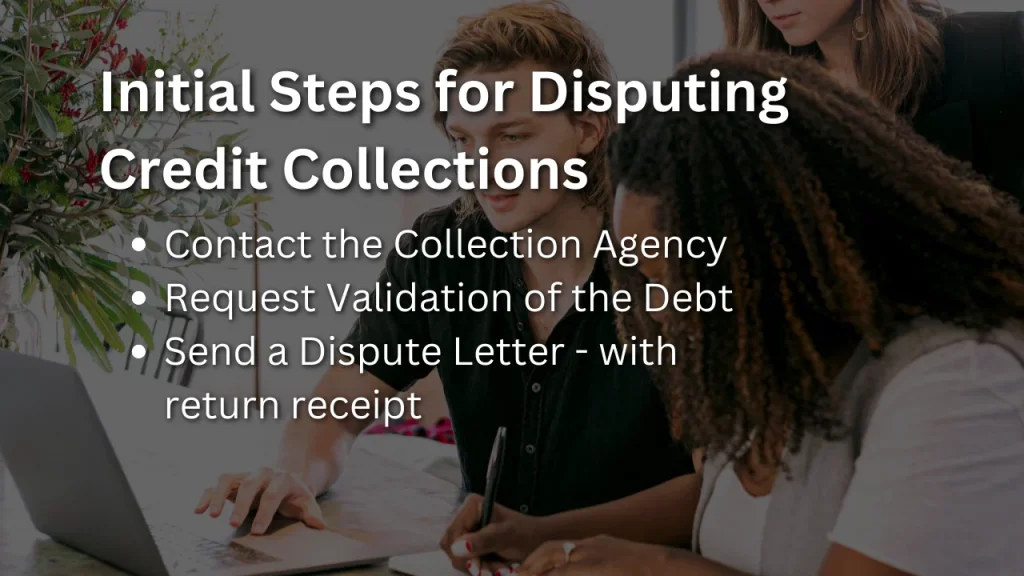 Dealing with Responses from the Collection Agency
Examining the Validation Provided
Upon receiving a response from the collection agency, carefully examine the validation they have provided. Compare it to the original request you made and ensure that the documentation meets the requirements outlined in the FDCPA. If the validation is insufficient or fails to meet the necessary criteria, you have grounds to continue disputing the collection account.
Negotiating a Settlement
In some cases, the collection agency may respond with an offer to settle the debt. If you find this option agreeable, it is worth considering negotiating a settlement. Start by offering an amount that you are comfortable paying and be prepared to negotiate further if necessary. Keep in mind that settling the debt may impact your credit score, so consider the pros and cons before agreeing to a settlement.
Requesting Removal of the Collection Account
If you successfully dispute the collection account or reach a settlement agreement, you can request the collection agency to remove the account from your credit report. This is important because even a settled debt can still have a negative impact on your credit score. Ask the collection agency to provide written confirmation of the removal request and monitor your credit report to ensure that it reflects the removal in a timely manner.
Seeking Assistance from Credit Bureaus
Filing a Dispute with Credit Bureaus
If the collection agency fails to adequately respond to your dispute or if you believe the collection account is incorrect or unjust, it is advisable to file a dispute directly with the credit bureaus. This can be done online or via mail by providing the credit bureaus with a detailed explanation of the dispute along with any supporting evidence. The credit bureaus are required to investigate the dispute and update your credit report accordingly.
Monitoring Changes to Your Credit Report
After filing a dispute with the credit bureaus, it is important to monitor any changes to your credit report. The credit bureaus have 30 days to investigate and respond to your dispute. During this time, regularly check your credit report to ensure that any inaccuracies related to the disputed collection account have been resolved. If the credit bureaus fail to take appropriate action, follow up with them to ensure the dispute is being addressed.
Understanding the Dispute Process
It is crucial to understand the dispute process when seeking assistance from credit bureaus. The credit bureaus are responsible for investigating and validating the information on your credit report, including any disputed items. They will reach out to the creditor or collection agency to verify the accuracy of the information. If the disputed information cannot be verified, it must be removed from your credit report. Stay informed about the progress of your dispute and thoroughly review any updates or responses from the credit bureaus.
Legal Actions to Take for Credit Collection Disputes
Consulting with an Attorney
If you are facing difficulties in resolving your credit collection dispute or believe your rights have been violated, it may be wise to consult with an attorney specializing in consumer law. An attorney can provide valuable advice and guidance, helping you understand your legal options and potential courses of action. They can also represent you in negotiations or legal proceedings if necessary.
Understanding the Fair Debt Collection Practices Act (FDCPA)
As mentioned earlier, the FDCPA is a federal law designed to protect consumers from unfair and abusive debt collection practices. Take the time to familiarize yourself with the provisions of this act, as it can provide crucial guidance in disputing credit collections. By understanding your rights under the FDCPA, you can take appropriate action if you believe a collection agency has violated the law.
Filing a Complaint with Regulatory Authorities
If you encounter ongoing issues with a collection agency and believe they are engaging in illegal or unethical practices, consider filing a complaint with relevant regulatory authorities. The Consumer Financial Protection Bureau (CFPB) is one such authority that handles complaints related to debt collection. Submitting a detailed complaint will not only aid in resolving your individual dispute but also help protect other consumers from potential misconduct by the collection agency.
Additional Strategies for Disputing Credit Collections
Investigating Statute of Limitations
When disputing credit collections, it can be beneficial to investigate the statute of limitations on the debt. Each state has a specific time limit within which a creditor or collection agency can legally pursue a debt. If the debt is beyond the statute of limitations, you may have grounds to challenge its validity. Research your state's laws or consult with an attorney to determine if the debt falls within the statute of limitations.
Challenging the Creditor's Authority
Another strategy for disputing credit collections is to challenge the creditor's authority to collect the debt. Request documentation that proves the creditor has the legal standing to pursue collection efforts. Often, debt is bought and sold multiple times, and the necessary documentation may be missing or incomplete. If the creditor fails to provide sufficient evidence, you can dispute the collection account based on the lack of ownership or authority.
Disputing Unfair Collection Practices
If you believe the collection agency is engaging in unfair or deceptive practices, it is essential to dispute these practices alongside the debt itself. Such practices can include harassment, excessive calls or communication, misrepresentation of the debt, or attempts to collect on a debt that has already been paid. Document instances of any unfair practices and include them in your dispute to strengthen your case.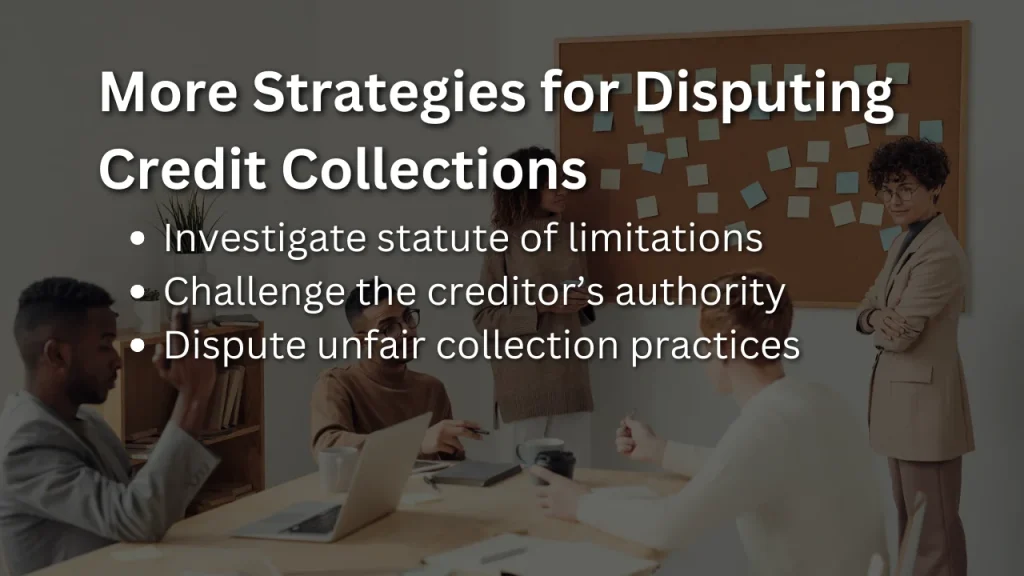 Documenting and Organizing Your Dispute
Keeping Detailed Records
Throughout the process of disputing credit collections, it is crucial to keep detailed records of all interactions, communications, and documents. This includes recordings or logs of phone conversations, copies of letters or emails exchanged, and any supporting evidence related to the dispute. These records act as a valuable reference and can be used to support your case if it escalates to legal proceedings.
Maintaining a Correspondence Log
To stay organized during the dispute process, maintain a correspondence log. This log should include a record of the date, time, and nature of each communication with the collection agency, credit bureaus, or any other relevant parties. Note down the names and titles of the individuals you speak with, as well as any significant points discussed. By keeping a correspondence log, you can easily track the progress of your dispute and provide accurate information whenever needed.
Utilizing Online Tools for Organization
To streamline the dispute process and keep all your information organized, consider using online tools specifically designed for credit dispute management. These tools often provide features such as document storage, communication tracking, and reminder notifications, making it easier to stay on top of your dispute and manage the various aspects involved. Research different tools available and choose one that best suits your needs and preferences.
Protecting Your Rights during the Dispute Process
Understanding Prohibited Collection Practices
While disputing credit collections, it is crucial to be aware of prohibited collection practices. The FDCPA outlines specific behaviors that collection agencies are not permitted to engage in, such as using abusive or threatening language, making false statements, or contacting you at unreasonable hours. Educate yourself about these prohibited practices so you can recognize if they occur during the dispute process. If you experience any prohibited behavior, assert your rights and consider taking appropriate legal action.
Recognizing Signs of Harassment
During the dispute process, it is essential to be vigilant for signs of harassment from the collection agency. Harassment can manifest in the form of repeated and excessive phone calls, verbal abuse, or continuous communication despite your request to cease contact. If you experience any signs of harassment, keep a record and report them to regulatory authorities, such as the CFPB, to protect your rights and potentially hold the collection agency accountable.
Knowing Your Options for Legal Recourse
If your dispute reaches a stalemate or you believe your rights have been violated, it is important to be informed about your legal recourse options. Consult with an attorney to understand the laws and regulations specific to your jurisdiction and situation. You may be able to file a lawsuit against the collection agency for violations of the FDCPA or seek other legal remedies. Knowing your options empowers you to protect your rights and seek appropriate restitution if necessary.
Rebuilding Your Credit after Resolving Credit Collections
Reviewing and Correcting Credit Reporting Errors
Once you have successfully disputed credit collections and resolved the issues, it is crucial to review your credit reports for any errors that may have resulted from the dispute process. Ensure that the updated information accurately reflects the resolution of the collection account and that no lingering inaccuracies remain. If you identify any errors, file a dispute with the credit bureaus to have them corrected promptly.
Implementing a Responsible Financial Plan
As you rebuild your credit, it is essential to implement a responsible financial plan. This plan should prioritize timely payments on existing debts, avoiding new debts whenever possible, and steadily reducing overall debt. By cultivating responsible financial habits, you can establish a solid foundation for improved creditworthiness and mitigate the risk of future credit collection issues.
Building Positive Credit History
One of the most effective ways to rebuild your credit after resolving credit collections is to build positive credit history. This can be achieved by responsibly using credit accounts, such as credit cards or loans, and making timely payments. Consider obtaining a secured credit card or becoming an authorized user on someone else's credit card to kickstart the process. Over time, consistently positive credit behavior will strengthen your credit profile and improve your chances of obtaining favorable credit terms.
Final Considerations for Disputing Credit Collections
Being Persistent and Patient
Disputing credit collections can be a time-consuming and sometimes frustrating process. It is important to remain persistent and patient throughout the journey. Stay committed to resolving the issue, follow up regularly with the relevant parties, and maintain a positive attitude. While it may take time to reach a resolution, your persistence and patience will ultimately increase the likelihood of a successful outcome.
Knowing When to Seek Professional Assistance
While many individuals can successfully navigate the credit collection dispute process independently, there may be instances where professional assistance becomes necessary. If you are facing complex legal issues, encountering uncooperative collection agencies, or simply feel overwhelmed by the dispute process, do not hesitate to seek the guidance of an attorney or credit counselor. These professionals can provide expert advice and support to help you achieve the best possible outcome.
Continuing to Monitor Your Credit
Even after resolving credit collections and rebuilding your credit, it is important to continue monitoring your credit on an ongoing basis. Regularly review your credit reports from the major credit bureaus to identify any new inaccurate information or signs of potential fraud. By staying vigilant, you can quickly address any issues that may arise and protect your credit standing for the long term.
In conclusion, disputing credit collections can be a challenging process, but by following the outlined steps, understanding your rights, and being proactive, you can effectively resolve the issue. By gathering necessary information, contacting the collection agency, utilizing the assistance of credit bureaus, and potentially seeking legal recourse, you can assert your rights and work towards a resolution. Alongside the dispute process, it is important to document your efforts, protect your rights, and focus on rebuilding your credit for a brighter financial future.