Did you know that you have the power to dispute any errors or inaccuracies on your credit report with TransUnion? In this article, we will guide you through the simple steps of disputing your credit report, ensuring that you have a clear and accurate representation of your financial history.
By utilizing TransUnion's dispute process, you can take control of your credit and make sure that potential lenders are seeing the most up-to-date and correct information about your financial standing. So, let's get started on this journey to resolving any discrepancies and protecting your creditworthiness!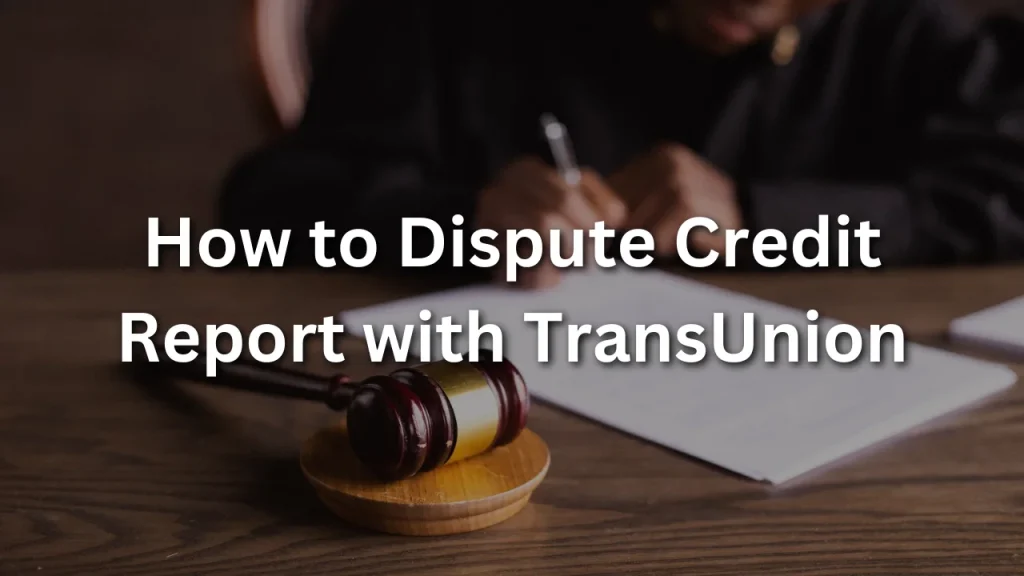 Research Your Rights
Before you begin the process of disputing your credit report with TransUnion, it is important to understand your rights under the Fair Credit Reporting Act (FCRA). This legislation was enacted to protect consumers and ensure the accuracy and fairness of credit reporting. By familiarizing yourself with the FCRA, you will be equipped with the knowledge needed to navigate the dispute process effectively.
Gather Necessary Information
Before initiating the dispute process, it is crucial to gather all the necessary information to support your case. Start by collecting your personal information, including your full name, address, and Social Security number.
To further strengthen your case, obtain a copy of your TransUnion credit report. You are entitled to one free copy of your credit report every 12 months. Review this report carefully, identifying any inaccuracies or errors that may exist.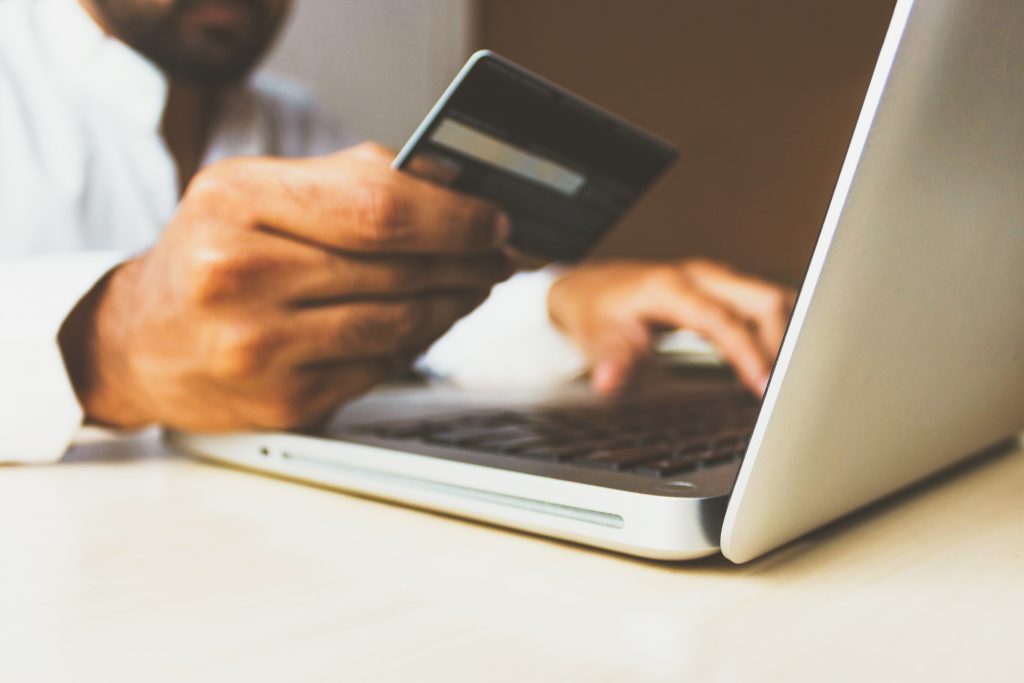 Initiate the Dispute Process
Once you have gathered the necessary information and identified inaccuracies in your credit report, it's time to initiate the dispute process. TransUnion provides several methods for submitting a concern, and you can choose the one that is most convenient for you.
Online Dispute Process
TransUnion offers an online dispute process that allows you to conveniently submit your dispute from the comfort of your own home. To begin, visit TransUnion's website and navigate to their dispute center. Follow the instructions provided to complete the online dispute form, providing all the necessary information and details regarding the inaccuracies in your credit report.
Submitting a Dispute by Mail
If you prefer a more traditional approach, you can also submit your dispute to TransUnion by mail. To do this, write a formal dispute letter clearly stating the inaccuracies in your credit report and providing any supporting evidence you have. Include copies of any relevant documents, such as receipts or statements, that can help substantiate your claim. Be sure to send your dispute letter via certified mail with a return receipt requested, allowing you to track the delivery and ensure that it reaches TransUnion.
Contacting TransUnion by Phone
Another option for initiating a dispute is to contact TransUnion by phone. Visit their website or refer to your credit report documentation for the appropriate phone number to contact their customer service representative. When speaking with the representative, provide them with all the necessary information and explain the inaccuracies in your credit report. It is advisable to take notes during the conversation, including the date, time, and the representative's name for future reference.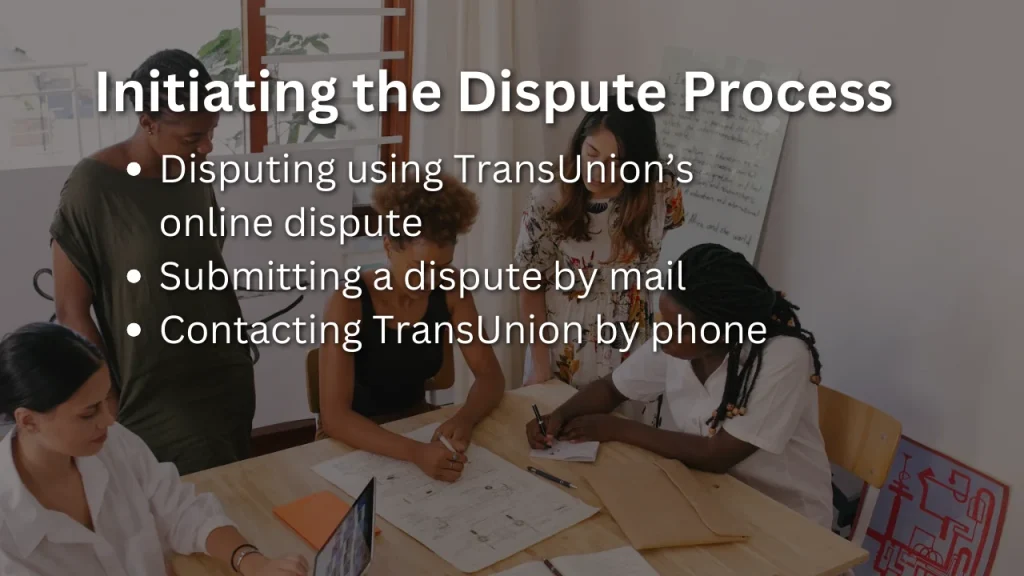 Craft an Effective Dispute Letter
When disputing your credit report with TransUnion, it is essential to craft an effective dispute letter that communicates your concerns and requests for correction or removal of the inaccuracies. Here are some key points to consider when writing your dispute letter:
Use a Formal Tone and Clear Language
While maintaining a friendly tone, it is important to adopt a formal writing style when drafting your dispute letter. Use clear and concise language to convey your message effectively.
Include Identifying Information
At the beginning of your dispute letter, include your full name, address, and Social Security number. This will help TransUnion identify your account and connect it with the dispute.
Clearly State the Inaccuracies and Provide Supporting Evidence
Provide a detailed explanation of each inaccuracy you have identified in your credit report. Clearly state what information is incorrect and why it is inaccurate. Back up your claims with any supporting evidence you have, such as receipts, statements, or any other relevant documentation.
Request a Correction or Removal
Clearly state your desired outcome in the dispute letter. Indicate whether you are requesting a correction or removal of the inaccuracies from your credit report. Be specific about the changes you want to make.
Keep Copies of All Correspondence
It is essential to keep copies of all correspondence related to your concern. This includes your dispute letter, any supporting documents you send, and any responses or communications from TransUnion. These records will serve as evidence of your efforts in resolving the concern if further action is necessary.
Online Submission
If you initiated your dispute through the online dispute process, simply follow the instructions provided to submit your dispute electronically. Be sure to review all the information you entered for accuracy before submitting.
Mailing your Dispute Letter
If you choose to mail your dispute letter, send it to the address specified by TransUnion in their documentation or on their website. Remember to send it via certified mail with a return receipt requested for proof of delivery.
Calling TransUnion
If you initiated your concern over the phone, the TransUnion representative will guide you through the submission process. They may request additional information or documentation, so be prepared to provide them with what they need.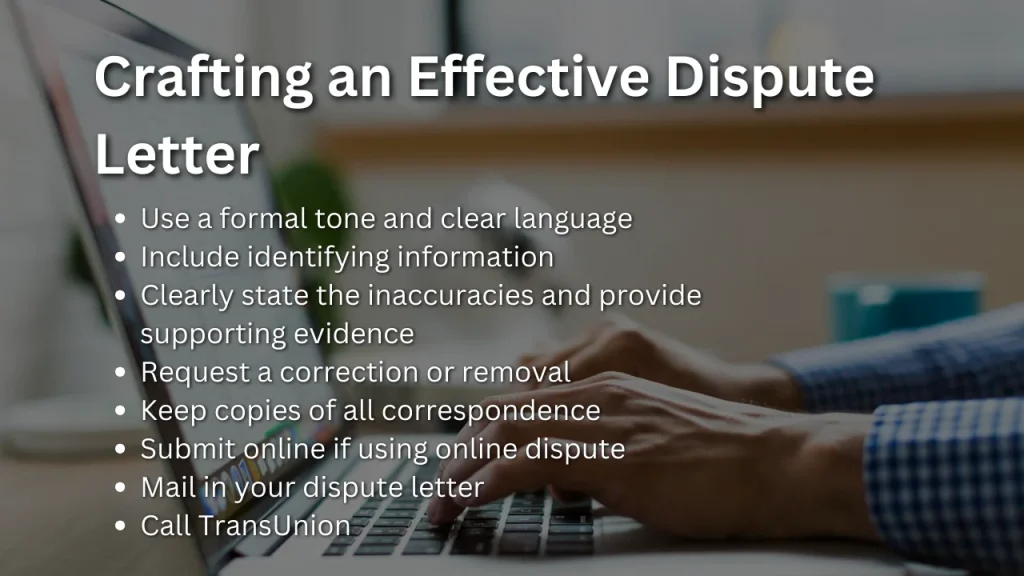 Wait for Investigation
It is important to be patient and allow TransUnion time to investigate. It is normal to feel anxious, but TransUnion has a specific timeframe within which they must respond to your concern.
TransUnion's Response Time
Under the FCRA, TransUnion is required to complete their investigation within 30 days of receiving a dispute. However, in certain cases, this timeframe may be extended to 45 days if you provide additional information during the investigation.
Monitoring Your Credit Report During the Investigation
While waiting for TransUnion's response, continue to monitor your credit report for any updates or changes. You can do this by signing up for credit monitoring services or regularly requesting your credit report from TransUnion.
Additional Actions to Consider
If you believe that the inaccuracies in your credit report are having a significant impact on your financial well-being, consider taking additional actions to mitigate the effect. For example, you may want to contact your lenders or creditors directly to inform them about the inaccuracies and provide any supporting evidence to support your concern.
Review the Investigation Results
Once TransUnion completes their investigation, they will provide you with the results in writing. It is crucial to review these results carefully to ensure that the inaccuracies have been appropriately addressed.
Check for Inaccuracies
Carefully review TransUnion's response to ensure that all inaccuracies identified in your concern have been addressed. Compare the results with your original dispute letter and supporting evidence to verify if the changes made are accurate and satisfactory.
Assess the Changes Made
TransUnion will either correct or remove the inaccuracies from your credit report if they find them to be valid. If the changes have been made, take note of the updates and compare them with your desired outcome. If the changes do not align with what you requested, you may need to take further action.
Request Further Investigation if Necessary
If you are not satisfied with the investigation results or believe that TransUnion has not resolved the inaccuracies appropriately, you have the right to request further investigation. Contact TransUnion and explain your concerns, providing any additional evidence or information that supports your case.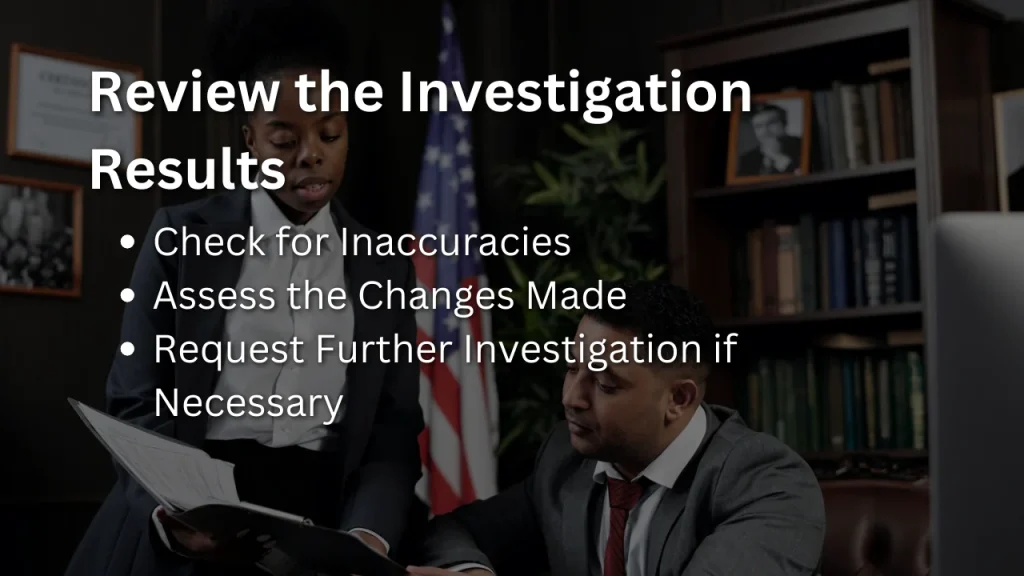 Dispute Escalated or Not Resolved
In some cases, disputes with TransUnion may not be resolved satisfactorily or may escalate further. If this happens, there are additional steps you can take to seek a resolution.
Submit a Complaint to the Consumer Financial Protection Bureau (CFPB)
If your concern remains unresolved, you can submit a complaint to the Consumer Financial Protection Bureau. The CFPB is a government agency that handles consumer complaints regarding financial products and services, including credit reporting. Visit their website and follow the instructions to initiate a complaint.
Contact a Consumer Rights Attorney
If you feel that your rights have been violated or your concern has not been resolved adequately, it may be beneficial to seek legal advice from a consumer rights attorney. They can help you understand your rights, evaluate your case, and provide guidance on the appropriate course of action.
Consider Filing a Lawsuit
As a last resort, if all other avenues to resolve your concern have failed, you have the option of filing a lawsuit against TransUnion. Consult with a consumer rights attorney who specializes in credit reporting and consumer law to determine if pursuing legal action is the right decision for your situation.
Stay Proactive in Managing Your Credit
While disputing inaccuracies in your credit report is essential, it is equally important to remain proactive in managing your credit and maintaining a healthy financial profile. Here are a few steps you can take.
Regularly Monitor Your Credit Reports
Even after resolving any inaccuracies, it is crucial to monitor your credit reports regularly. This will help you identify any new inaccuracies or fraudulent activities that may occur.
Review Your Credit Reports from Other Bureaus
TransUnion is just one of the three major credit bureaus. It is recommended to review your credit reports from Equifax and Experian as well, as they may contain different information and inaccuracies.
Maintain Good Credit Practices
To improve your creditworthiness and minimize the risk of inaccuracies, practice good credit habits. Pay your bills on time, keep your credit utilization low, and avoid unnecessary credit applications.
Follow Up on Resolved Disputes
Once your concern has been resolved, it is essential to follow up and ensure that the corrections or removals have been accurately reflected in your credit report.
Obtain an Updated Copy of Your Credit Report
Request an updated copy of your credit report from TransUnion to verify that the inaccuracies have been corrected or removed. Review the report carefully and compare it with your previous versions to ensure everything is accurate.
Verify the Inaccuracies are Corrected
Check your credit report thoroughly to confirm that the inaccuracies have been rectified. If any issues persist, contact TransUnion with the evidence of the prior concern and request further action.
Continue Monitoring your Credit
Even after resolving your concern and seeing the necessary corrections made, it is essential to continue monitoring your credit regularly. Stay vigilant for any new inaccuracies or fraudulent activity that may appear in the future.
By adhering to these guidelines and taking the necessary steps, you can effectively Dispute your credit report with TransUnion. Remember to research your rights, gather the necessary information, initiate the dispute process, craft an effective dispute letter, and follow up on the investigation results.
Stay proactive in managing your credit and seek professional assistance if needed. With patience and persistence, you can ensure the accuracy of your credit report and maintain a healthy financial future.